Let's cut to the point today! According to Home Advisor, installing a brick or paver patio costs an average of $3,400 with a typical range of $2,400 to $7,000 for the average 280 square foot patio. By their average, you should expect to pay anywhere from $8 to $25 per square foot.
They certainly know their business, so why are we even bothering to write this article?
Well, that's because they're WRONG when it comes to Florida.
How Much Do Pavers Cost In Florida
Pavers in Florida can be from 2 to 3 times cheaper than the averages you will find online. Out of experience, and due to the fact we do install pavers every day, we can tell you that the average around here is closer to $7 per square foot installed.
Why Are Pavers So Much Cheaper In Florida?
Well, the simplest explanation is that pavers are more common in the sunshine state since homeowners here value their outdoor areas a lot, and want to make them beautiful.
That means there's a lot of specialized manpower and more competition as well, which lowers labor costs.
If you're wondering how that affects quality, we'd have to say it also makes it even better. Competition among contractors is always a good thing for homeowners.
There's no reason to fear, you should rather enjoy the fact you can get a high-quality paver installation for half the price.
How Much Do Pavers Cost Without Installation
Not including labor, tools, and other necessary materials such as sand and gravel, concrete pavers cost an average of $3-$4 per square foot. Other material such as brick pavers and natural stone pavers are more expensive and may cost up to $15 per square foot for material alone
The best way of knowing the price for sure is actually to get an estimate from a paver contractor near you.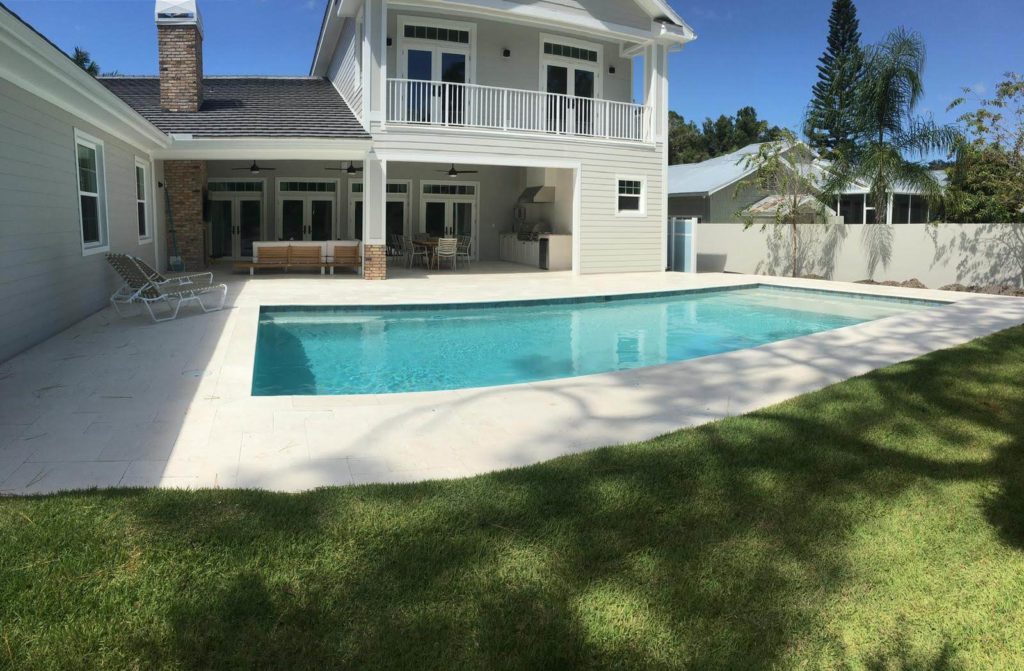 Is installing pavers DIY possible?
It's definitely possible, however, we don't recommend it. If you're thinking about saving cost you should know that buying other materials such as sand, gravel, and edge restrainers, and renting tools you most likely don't have might make it cost the same as paying someone else that already has all that to do it for you.
On top of that, paver installation is not exactly an easy task, it involves digging, leveling, preparing a sand and gravel base, laying pavers, adding joint sand and sealing. While it might seem simple, it is time-consuming and requires precision and skill.
Doing it the right way is the difference between having a patio paver that won't give you headaches for decades, and having to repair broken pavers in 2 years. If you wanna know more about it be sure to check out our complete paver installation guide.
For quick and flawless paver installations at an unbeatable price in Florida, get in touch with us right now for a free estimate. You won't regret it.
How long pavers actually last
If you've heard that pavers last longer than concrete and that's why you're here, you will be happy to find out that you've been told right. The average paver driveway or patio can last up to 50 years, while natural stone pavers can easily reach 75 years.
Of course, that's considering you provide regular maintenance to your driveway. Such as cleaning, sand refilling and sealing.
Are you still not sure pavers are the right choice for your driveway? Check out our article: "Pavers vs Concrete: Pros, Cons and Cost Comparison". It will definitely be of help.
Get a free estimate today!
That's the only way to know how much you will pay for your paver driveway project, and finding out is completely free. If you live in Florida, just give us a call!
JSBrick has been providing Sarasota with Bricks and Pavers Installation, Supply and Maintenance Services since 2000. Our commitment to quality products, exceptional services, and incomparable customer care has been a trademark ever since.