Pavers are considered to be the best option for flooring in the hardscape design industry. With maintenance being one of the most important aspects to ensure your installation lasts longer, how much does it cost to clean and seal pavers?
Cleaning pavers is a process that might be more difficult than you think. It all depends on the level of cleanliness you're trying to reach. A simple cleaning can be done on a weekly basis with no major problems.
However, a deep cleaning, in an installation that is full of dirt, mildew, and weeds will prove to be more intricate and require extra steps to be done properly.
And after cleaning, there is perhaps the most overlooked step on paver maintenance: sealing.
Many homeowners forget (or don't even know in the first place) that sealing your paver installation is one of the best things you can do to make sure it lasts longer.
So let's expand on the different practices on properly cleaning your pavers, the importance of sealing them, and how much will it all cost in the end.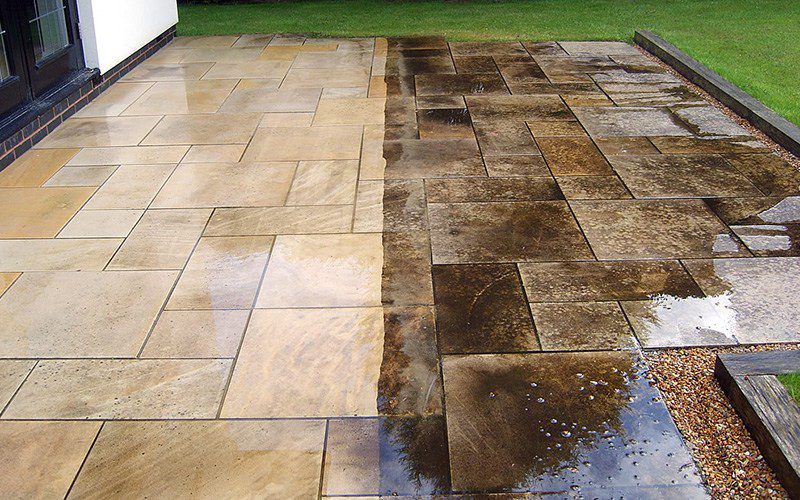 How Much Does it Cost to Clean and Seal Pavers? – What Kind of Cleaning?
That is an important question.
The first thing to notice is that pavers work alongside sand to form an interlocking system. That means the sand is just as important as the pavers in a paver installation.
This interlocking system is what allows pavers to be so resilient. They can withstand heavy loads distributing the weight amongst themselves, thanks to the malleable system formed by the sand.
Talking about cleaning pavers without talking about re-sanding your pavers afterward is impossible. Re-sand is an integral part of the deep cleaning of pavers.
So you have two scenarios. Either your paver installation is still intact and you just need to clean surface-level stains and dirt, or you have weeds and mildew growing between the joints of your pavers.
If you're in the first scenario, you have nothing to worry about. A regular garden hose and a broom, in combination with a good cleaning product, can get the job done.
But if your installation is compromised by biological life, you'll need to perform a deep cleaning and re-sanding afterward.
The importance of Sealing
Let's expand on what we previously mentioned about sealing being one of the most important aspects of paver maintenance.
When you seal pavers you are doing two jobs.
First, if your pavers are made out of a porous material, you are preventing them from absorbing spills and forming puddles.
Second, you are locking the joint sand into place and bonding it with the pavers. The sealer works as a glue, tying everything together and forming a resistant structure.
With sealing, the maintenance of your pavers becomes easier in the future, since the protective coat allows for easier cleaning and it prevents weeds and mildew from growing between the joints.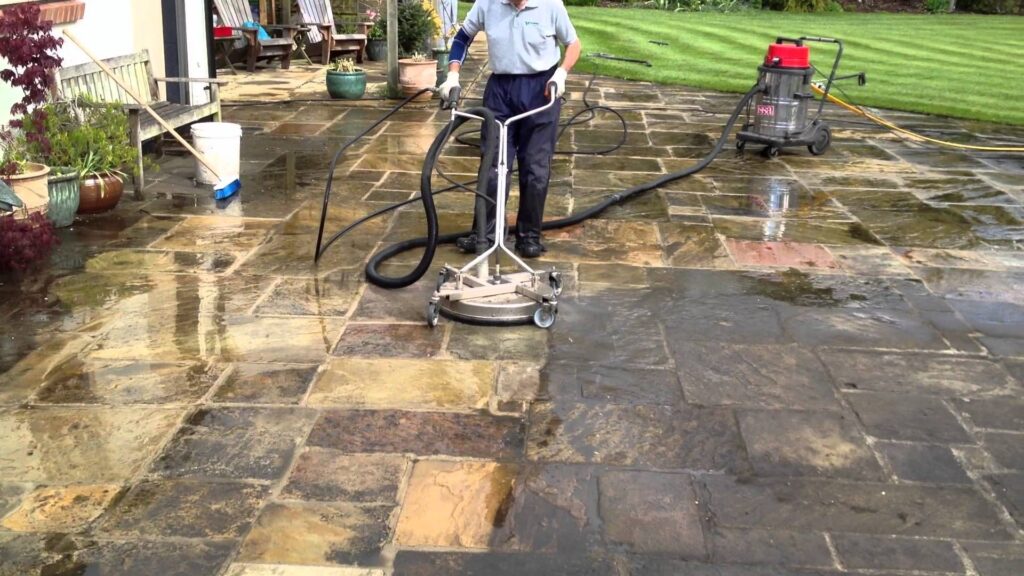 The Cost of Cleaning
The "simple" cleaning is easy enough for homeowners to it themselves. With a hard-bristled brush and a garden hose to rinse it all afterward, you'll only need a good cleaning product.
Most specialized paver cleaning products range from $15 to $40, so that's about the amount you'll need to spend.
The deep cleaning however is much more complicated.
First, you'll have to kill the weeds that are infesting your paver installation. For that, you're going to spend some amount ranging from $35 to $70 on a herbicide.
The price can greatly vary according to the quality and specialization of the herbicide. Most of them are ready to be applied and are enough to be used if you follow the instructions on the label.
After killing the weeds, you'll basically clean the same way you would normally, so again any good cleaning product ranging from $15 to $40 would be enough.
With your paver weed-free and clean, after they're completely dry, is time to re-sand your installation. For that, you will, of course, need sand. But not any sand.
In paver installation, we use a special kind of sand called polymeric sand. On a 30 pound pack of polymeric sand, you will spend about $45 to $60, again depending on the quality of the material.
That would be the final step on the cleaning and proper maintenance of a paver installation before applying the sealer.
And How Much Does Sealing Cost?
Choosing the right sealer can be tricky.
Again they can greatly vary in price, but good quality ones usually start at $295, with the top end reaching up to $350 on a 5-gallon bucket, which can cover up to about 1,000 square feet.
This choice can be tricky because some come in different finishes, some are made for a specific type of material, some can be diluted. There are a lot of variables involved in choosing the right sealer.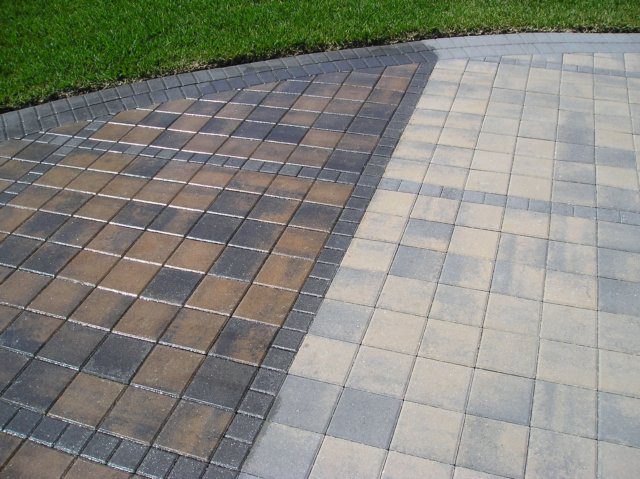 Cost to Clean and Seal Pavers – Professional Help
So let's add everything together.
| | | |
| --- | --- | --- |
| | Simple Cleaning | Deep Cleaning |
| Herbicide | – | $35 – $70 |
| Cleaning Products | $15 – $40 | $15 – $40 |
| Polymeric Sand | – | $45 – $60 |
| Sealing | $295 – $350 | $295 – $350 |
| Total | $310 – $390 | $390 – $520 |
That's roughly the cost to clean and seal pavers in a 1,000 square feet area. This is considering you're going to tackle the task from a DIY perspective, without hiring professionals.
And speaking of professionals, hiring one is actually something you should consider.
There are a lot of things that can go wrong when cleaning and sealing pavers if you're not 100% confident in what you're doing. Is not the cheapest investment and a simple mistake can cost you a lot of time and money.
Also, a professional, will already have all necessary chemicals and materials, so the end cost might actually be cheaper.
The best alternative to make sure you'll end up with a job well done is to hire a professional to do it for you, from killing the weeds to sealing. All of this while making sure the correct products are being used and the correct measures are being implemented.
Most professionals charge for the entire process, including pressure washing, re-sanding, and sealing it. For that, a rough estimation would be about $1,50 – $2,50 per square foot.
If you're considering hiring professionals and are around Sarasota, FL, we here at JS Brick are happy to offer our services.
We are proud to say we've been successfully providing the area with only the best work in the installation and maintenance of pavers for the past 20 years.
Give us a call anytime at +1 941 586 9140 or reach us through our email at [email protected] for a free estimate of our services.