Pavers are a go-to option for outdoor projects, they are not only attractive but also have other interesting features, like slip resistance, potential to increase your home value and durability.
Since pavers are a high-end option, most people question if the investment is worth it or not. Fortunately, if installed properly and with regular maintenance, pavers have a long lifespan, especially when you compare them with other options.
If you want to know more about the durability of pavers, you're in the right place! In this article, we're gonna talk about everything you need about the subject and have all your questions answered!

How long do pavers last?
The durability of pavers will depend a lot on the type, but usually, they can last 50 to 100 years (even longer). Unlike concrete slabs or asphalt, pavers can be easily repaired without replacing the whole thing.
Check the lifespan of each type of paver:
Brick pavers: Brick pavers are very popular for projects, once they have a classic look and are extremely durable, with regular maintenance, they can last for 25 years or even more.
Concrete brick pavers: When compared with the first option, concrete brick pavers have a bigger variety of colors and shapes that can give a nice and fun pattern to any project. The material lifespan is between 25 to 50 years with regular maintenance.
Travertine pavers: Very popular for projects as well, especially for pool decks. Travertine pavers not only have an elegant look but also a long lifespan: they can last for over 100 years (with proper care and maintenance as well).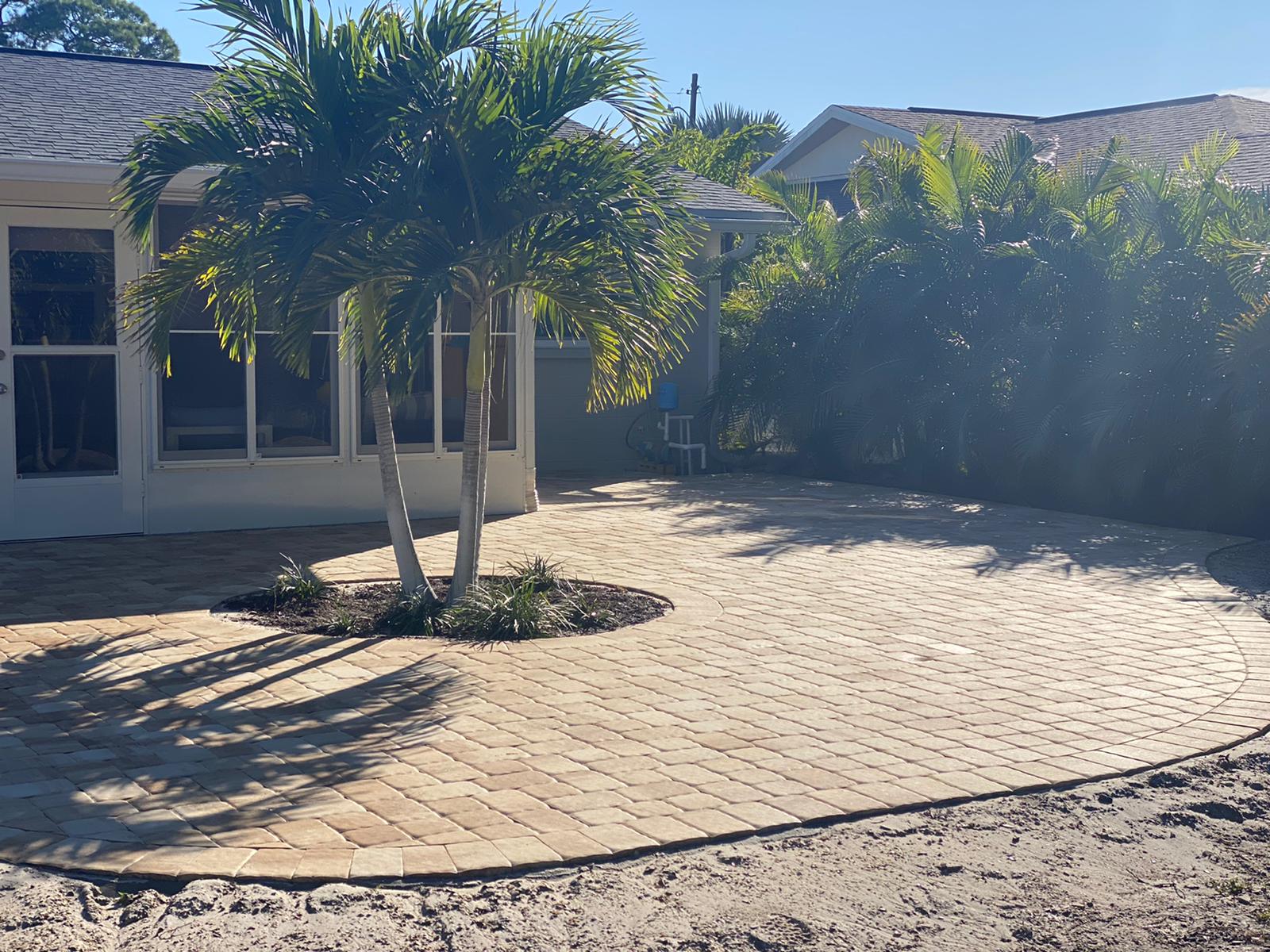 How to make your pavers last more?
Have you ever heard that if you take care of your things, they will last longer? That can be also applied with pavers. They are a very strong and durable material indeed, but there are a few tips that can make your patio, walkway, or driveway lasts longer than usual.
Regular cleaning and sealing
Regular cleaning and sealing can not only make your pavers more beautiful but also expand their lifespan. While proper cleaning can wash off any debris, mold, and moss from the surface, sealing create a layer that protects your paver from weather conditions, color fading, cracking, and other types of damages.
It's important to mention that choosing the right type of cleaning products and sealants is essential to avoid damages and make your pavers last even longer.
Proper installation
The installation process has several steps and details, that include excavation, soil compaction, adding the gravel and sand base, installing edge restrains, scooping your slope, etc. and all these factors will affect the quality and longevity of your project.
A well-done installation can make your pavers stay in place and make your project lasts longer than you can imagine. If the installation is not done properly, your pavers are more prone to crack, lift, sink, or shift over time.
Check our complete paver installation guide to see all the steps and details into the process!
Edging
Edging is a fundamental part of any paver installation, they are responsible for keeping everything in place and prevent pavers from shifting or sinking over time, and also prevents weeds and moss growth between the cracks. Without it, your pavers won't last longer than you imagine, even with very durable paving stones.
Get a FREE quote on your paver installation!
If you live in Sarasota or Manatee Counties, call us, and we will drive by your place in no time!
Hire a professional and make sure your pavers last!
Professional skills are a guarantee that your project will have a higher quality and that your paver system will be installed properly, which means that your pavers are gonna last for many years to come.
JS Brick is a company that specializes in the supply and installation of pavers, whatever you need, we've got your back. If you live near Sarasota and Manatee, call us right now for a free consultation.

Get a FREE quote on your paver installation!
If you live in Sarasota or Manatee Counties, call us, and we will drive by your place in no time!