The choice of material is one of the most important aspects of working with pavers. Travertine might be a less famous material, but it has some unique characteristics that can make it a perfect choice for some situations. This article aims to tackle all the aspects of travertine pavers maintenance.
Let's discuss what are the correct practices when it comes to cleaning it, both on a day-to-day basis and on the occasional deep clean, and how to properly care for your travertine to make it last longer.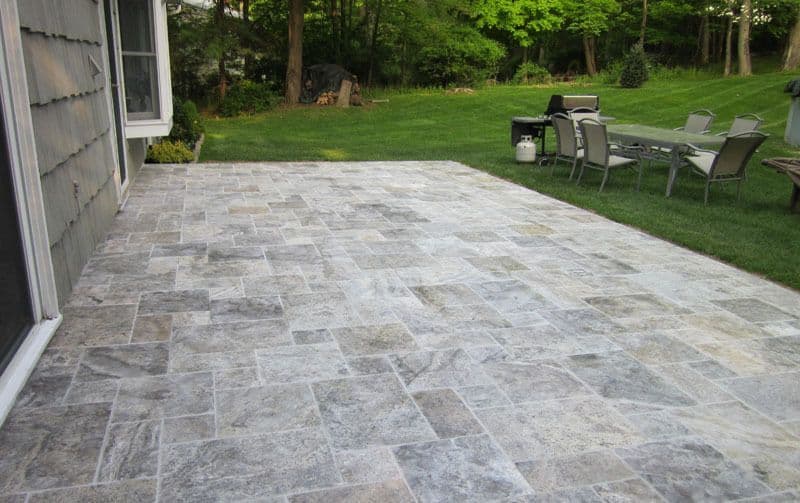 Travertine Maintenance: To Seal or Not to Seal?
Let's start by what is often the first maintenance aspect of any paver installation: the sealing.
Travertine is a natural stone, therefore, it is a porous material. Being porous, it does need to be sealed to be properly protected.
So sealing is the first maintenance practice you want to take with your travertine pavers. And be mindful, is really important that you don't be cheap on the sealer.
Travertine has certain characteristics that can be undermined by a cheap sealer. A good quality sealer is the best way to protect your travertine while preserving the aspects you choose it for.
Cleaning Travertine
As for cleaning it, travertine should not be scrubbed. A simple sweep every day and moping once a week with warm water and a mild cleaner is more than enough. If the area has a lot of foot or vehicular traffic, maybe moping at the end of every day is a good idea.
Be quick when dealing with spills that can stain your travertine. If quickly dealt with, they cause no harm, especially if your pavers are sealed.
Never use any kind of acidic cleaner on your travertine, they can damage both the sealing and the structure of the pavers itself. Always go for pH-neutral products.
To deep clean your travertine, the best product you can use are specific pH-neutral natural stone cleaners. Always follow the instructions on the label of your product of choice, but that is nothing too complicated.
They will usually recommend you to dilute the product and spread it on the travertine, giving it some time to react. After that, simply rinse the area and top it all off with a dry mop.
You can also safely use a pressure washer to clean travertine. But be careful! Always start with the lowest possible pressure and slowly add more until you see it removing the dirt. Keep it from a safe distance, at least 8 inches, and don't use a jet nozzle. Always use a rotating surface cleaner attachment instead.
Maintenance Practices
Travertine is durable, but not indestructible. Handle heavy furniture or potted plats with as much care as possible to avoid accidents.
Good practices to develop, just to make sure accident don't happen, is to never drop anything heavy on it or never shift things directly on top of it. Always lift things up before moving them and place them gently back.
Grout lines between the travertine need as much attention as the travertine itself. Weeds growing between them can be a problem, although a very unlikely one if the installation is sealed.
There are many ways to deal with weeds, this article can give you a more profound help with that, but one of the easiest ways is to simple boil water, add some tablespoons of salt, and pour it directly on the weeds.
In fact, you can use this same method to deal with the mold and mildew that can eventually appear on your installation. If you find particular resistant forms of weed, mold and mildew, maybe it is time to put the pressure washer in action.
Professional Help With Travertine Maintenance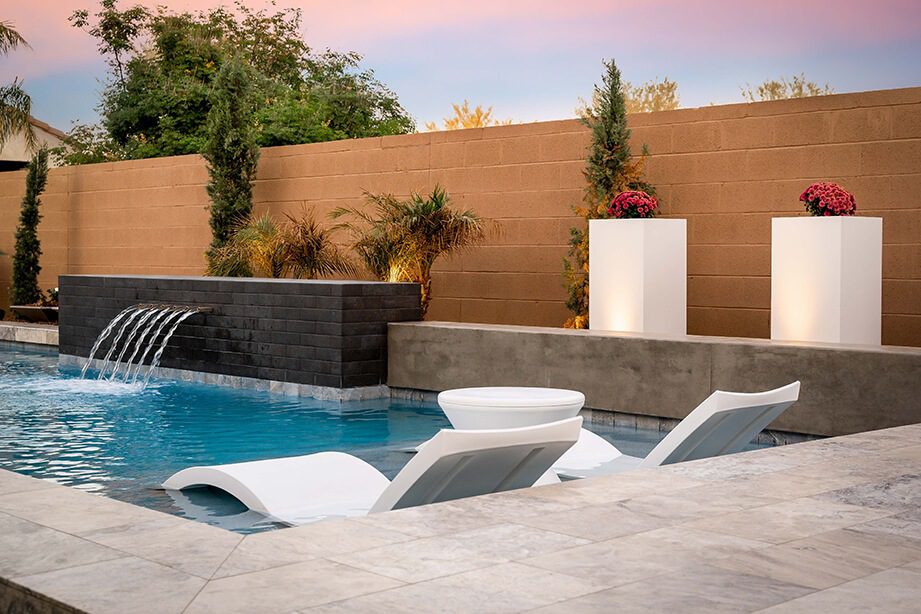 Travertine might not be as famous as it others limestone relatives, like marble and slate, but it is in no way an inferior choice.
On the contrary, it is one of the best natural stones you choose for a poolside installation due to its natural non-slippery surface and. Non-slippery that, as we mentioned, you can maintain if using the correct sealer.
The best way to approach the sealing of your travertine pavers is to hire professionals in the hardscape business to help you. They can help you with everything related to travertine pavers maintenance and intallation.
Work with qualified professionals is the best course of action to protect your investment and make sure you end up with a job well done and in tune with your vision.
We here at JS Brick have helped countless customers reach their vision during our 20 years of activity around the Sarasota and Manatee Counties.
If you happen to be around that area, you can give us a call anytime at +1 941 586 9140 or email us at [email protected]. We will gladly help you, not only with any doubts regarding the maintenance of your travertine, but anything related to the installation and maintenance of pavers.