If you're interested in creating a beautiful poolside area, while not ever having to worry about maintenance and durability, adding pavers around the pool is indeed the best choice. Here are some of the main benefits of making this choice:
Pavers look great
They can last for over 50 years
They only require cleaning and sealing every couple of years
Pavers don't crack like concrete slabs
No puddles of water
Anti-slip surfaces
Better heat distribution
And we could keep on going. But since you're probably already fond of the idea of adding pavers around the pool, there's something else we need to talk about.
All the benefits we listed are true to most paver materials. However, when it comes to pool decks, some materials simply have the upper hand.
For instance, you certainly don't want to burn your feet on hot surfaces when walking barefoot on a summer day. If you have kids or are concerned about elders, you will most likely prefer options that offer greater anti slip action.
In this article, you will find all you need to know in order to make the right choice of material.
Pool Pavers: How To Pick The Right Material
In order to help you pick the best pavers for your pool area, we will share our top material picks and list their pros and cons. Nevertheless, before we begin, one consideration needs to be made.
If you live in a place with hot weather and your pool receives direct sunlight, you really should consider opting for materials that accumulate less heat. Pay attention to that.
Here are the best pool paver materials.
Travertine Pavers
Let's start with our preferred. Travertine is always a great option to any pool. It's a beautiful natural stone offered in hues of white, gray, brown, and yellow.
The reason we love travertine for pool pavers is that it manages to remain cool even on the hottest days, and as a natural stone, it is very, very durable.
If you like how travertine pavers look they will be always the right choice.
Marble And Limestone Pavers
Tumbled marble and limestone pavers are similar to travertine, although they are more expensive and get heat up a little bit more. So why would you buy them?
Well, if you don't like the way travertine looks, there are marble and limestone options of almost every imaginable color so you can get creative. Just remember to always opt for light shades that will reflect sunlight instead of absorbing it.
Are you looking for more traditional-looking pavers? We've got you covered.
Concrete Pavers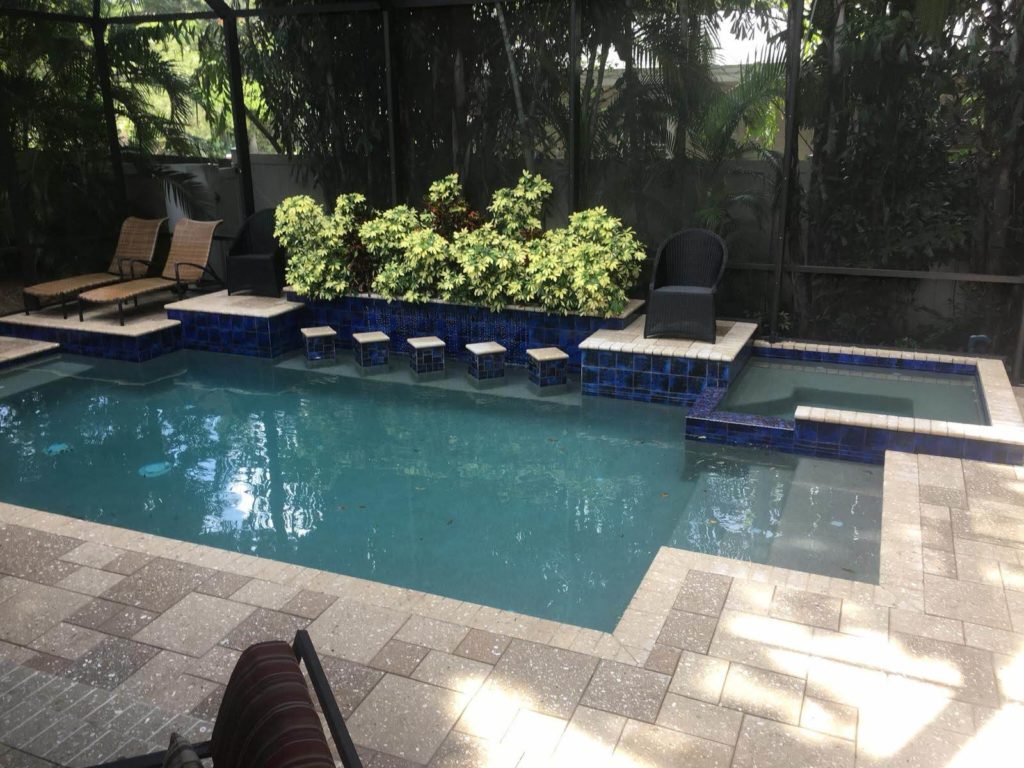 Concrete pavers actually are made to look like bricks, stones, and other materials. The end result is marvelous and for a fraction of the price. We recommend them over bricks, because they are not only less expensive, but also more durable, and absorb less heat.
With concrete pavers, you can achieve any look you want. They are offered in all imaginable sizes, shapes, colors, and textures.
They will be a bit uncomfortable for walking barefoot, but much less than brick. Still, we caution you to give preference to light colors. White, if you live in a very hot place. That's the best way to ensure your pool deck will not become a heat accumulator.
What About Slip Resistance?
Slip resistance actually has to do with the finishing of the material rather than the material itself. If you want you pool deck to be slip-proof, make sure to avoid polished finishes.
Ask your supplier to help you choose surface finishes that maximize slip resistance such as honed, flamed, texturized, bush-hammered, and so on.
What About Maintenance?
Maintenance needs are low and similar for all the materials we recommended. They require standard cleaning, periodic sealing and sand refilling.
Just call your sealing contractor every 3-5 years and forget about the rest.
Price To Add Pavers Around The Pool
Maybe that will be the factor that will help you make up your mind!
When it comes to price, concrete pavers are your cheapest choice, followed by travertine and then other natural stones.
Prices range from 6 to 15 dollars per square foot, labor and installation included. Nevertheless, whichever you choose you can be sure you're making a cost-effective choice.
People sometimes think they will save money by opting for pouring concrete instead of using pavers.
However, concrete slabs will crack and require expensive repair in just a few years. Whilst pavers will last way longer, and the few repairs you might need to make are inexpensive since you will only need to change the affected paver units.
Your perfect pool deck is a phone call away!
If you want to be sure about the price and paying options, most suppliers offer free estimates. Quit reading and call a reputable supplier right now.
If you live in Sarasota or any of our nearby cities we will be glad to drive by and share some of our knowledge. Call us!