When it comes to cover outdoor surfaces, people instantly think about pavers, since they are very beautiful, durable, and can boost your home value instantly. Unlike a concrete slab, you can use your imagination with paving stones and create different patterns.
Since every project is unique, it is really common to cut pavers in order to fit them in the chosen layout.
Cutting paving stones for a project is more normal than more people think, especially for areas that have curves, and for obvious reasons, cutting pavers for rounded shape projects is more complicated than straight cuts. 
In this article, you're gonna learn how to cut your pavers for curves properly and safely.
How to cut pavers for curves?
Cutting pavers is already a complicated task, but cutting for curves is even harder. Since you're gonna need a more precise cut, you can't use a hammer and chisel or a stone splitter to do it. For that reason, a mansory blade is highly recommended.
A masonry saw is a tool able to make clean and fast cuts, suggested for complex projects where you'll be cutting a big quantity of stones or you'll need to get perfect cuts. Remember that the equipment needs to be wet while using the tool, preferably with an open water source pointed directly at the stone while you do it. Otherwise, it creates a cloud of dense silica dust that can harm your lungs.
Follow the next steps to cut pavers for curves:
Step 1: Lay the paving stones along the curve one by one, then mark a line on your paver where the cuts need to be.
Step 2: Set the marked paver up on supports (other pavers will work well) with the marked area over the space between the supports. This gives your blade a clear path.
Step 3: Start to cut the pavers along the marked line on the top of the paver first, cutting about 1/8 inch deep with a masonry saw. Depending on the thickness, you might need to turn the stone over and do another pass with the blade.
ATTENTION: Don't forget to wear protection while cutting pavers to avoid accidents and breathing the dust that comes out with the process! The safety equipment required for the work is working gloves, protection glasses, and a dust mask.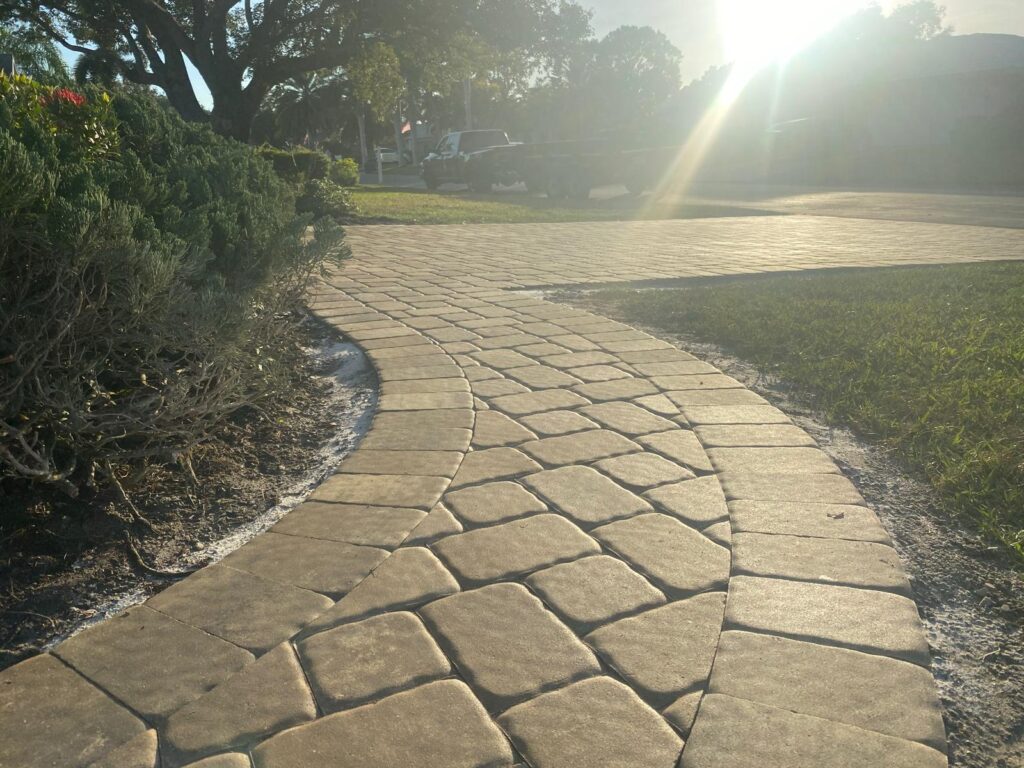 Tips for cutting pavers to fit a curve
When cutting the paving stones, you'll see that it is really easy to ruin the cut, so waste is more common than you can imagine. If your project has curves, don't forget to add, at least, 5% more pavers when buying it.
To make the work easier, you can use strings and stakes to sketch out your curve with a marker on the paver stones.
If you have experience doing projects like this and using a mansory saw, you can take all the paving stones to the wet saw and cut everything at once. By doing this you'll end up with an accurate edge since the cuts will line up with each other.
If you don't have any experience doing this, you can cut the pavers one by one or call a professional to do the project for you.
Hire a pro!
Cutting pavers for round shape projects isn't simple and it can be really dangerous if not done properly. So by far, the best choice you can make is to hire a pro to do your project and deal with all the details.
Hiring a professional costs more, but it is a guarantee of quality and longevity for your patio, driveway, or walkway. Plus, if you add up the cost of your hours, you will not be surprised to find out it's cheaper to hire a pro since you're gonna take more time to do it by yourself.
At JS Brick, we have 20+ years of experience providing paver installation, supply, and maintenance services in Sarasota and surrounding cities. For a free estimate on paver cleaning and sealing services, don't hesitate to leave us a message or a call.