The size of a fire pit is the first big question when planning the project for an outdoor fire pit. The most asked question about the subject is "How big should my fire pit be?"
The matter of size is something that must be considered. If your fire pit is too small, it won't put off enough heat, and it will be hard for more than a few people to circle round. But if your fire pit is too large, it would be impossible to be close and also an accident can happen.
Do you have a fire pit project but have no idea about how big it should be? Read more about it below!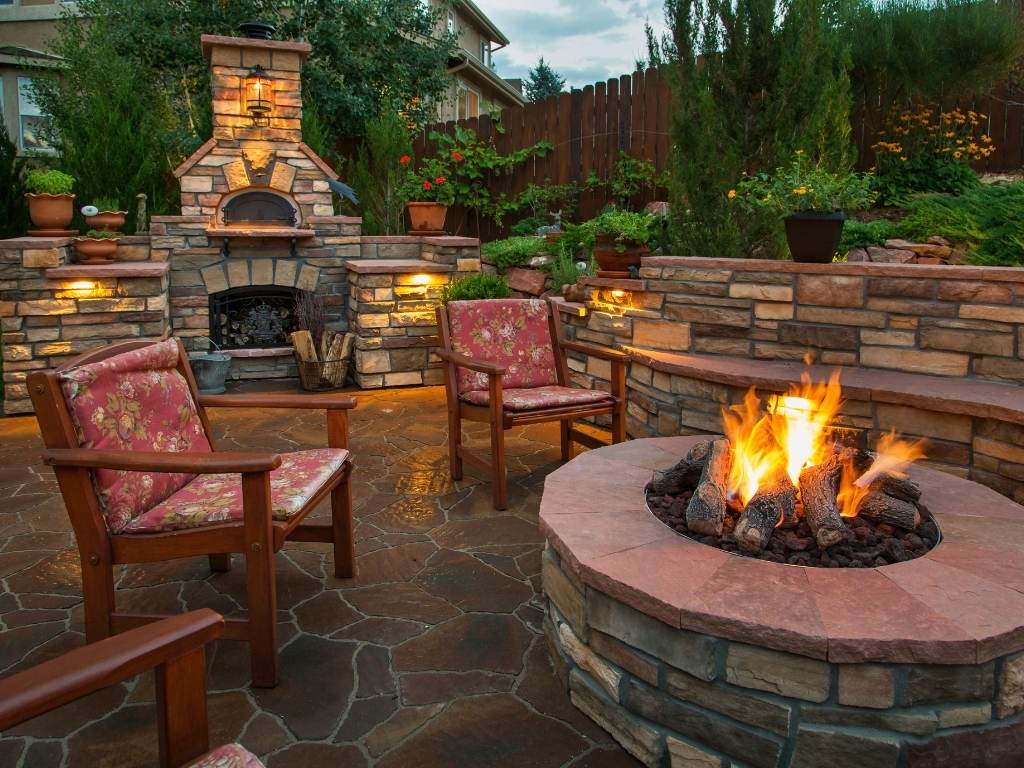 How big should my fire pit be?
Usually, the optimal size for a fire pit is between 36 and 44 inches inside diameter. But the size will also depend on the area you have available and the local regulations, which will say where you can locate it. If you still have doubts about the size of a fire fit, we can help you from the start:
Width
Smaller fire pits are around 3 feet wide, and larger fire pits can be up to 6 feet wide. It's important to say that the total width of the fire pit is not the same as the width of the burning area, these measurements also include the thickness of the fire pit walls.
Height
If you are opting for a fire pit above the ground, the height is super important too. It can't be too tall or too small. A good rule of thumb is to make an above-ground fire pit with 12 to 14 inches of height. Or you can measure your furniture seat height around and make the fire pit a few inches shorter. 
Don't make a fire pit so tall that it will hold heat in and make it hard to enjoy the warmth.
Other factors
Of course, there is no magical rule when it comes to the size of a fire pit. Many factors can contribute to determining the size, such as your available space, your local rules, requirements, what you plan to do, how many people you want to accommodate, etc. Here are some things to think about that will affect the size of your future fire pit:
How many people do you want to be able to sit around it?
Are you creating a more intimate space, or is it meant to entertain large groups of people?
How big is your patio or landscaped space where you will add the fire pit?
If you are still in doubt about the size of the fire pit, hiring a professional to do the project and the work will help you with the planning is the best choice you can make.
What materials should I choose for my fire pit?
Fire pits commonly consist of an inner wall, an outer wall, a "cap" (i.e., a flat tabletop-like surface around the opening at the top of the pit), and decorative stones or rocks in the center of the pit. And all these materials must stand high temperatures. 
It's super important to pay attention when choosing the materials that will compose the fire pit because some types of rocks have the potential to explode. The rocks that you should avoid are sandstone, limestone, pumice, and river rocks.
The internal wall must be of a material very resistant to high temperatures because they will be directly in contact with the fire. Fire bricks and a fire-proof mortar or grout are great options. You can go with masonry block for the rest of the pit, poured concrete, stone, bricks, or pavers. 
Remember that building a fire pit on your own is not a good idea. The installation, the requirements, and all the details can get confusing, and something can go wrong. The best option here is to hire a professional to do your fire pit project for you.
How about a free estimate?
If you have no idea how to build a fire pit, how much it is going to cost, and all the details, you can have a professional contractor to plan and install your fire pit in a couple of days. 
And if you worry about the price, you can get a free estimate for your project!
JS Brick has been providing Sarasota with Bricks and Pavers installation, supply, and maintenance services since 2000. Our commitment to quality products, exceptional services, and incomparable customer care has been a trademark ever since.