No one can deny the importance of going green nowadays. Whenever we can, making choices that impact the environment as little as possible is the word of order. So what about hardscape? Are there any eco-friendly patio pavers option?
The answer is yes, there are some options available currently in the market. However, there are different ways in which a paver can be eco-friendly, so let's first talk about these differences and then present you some options.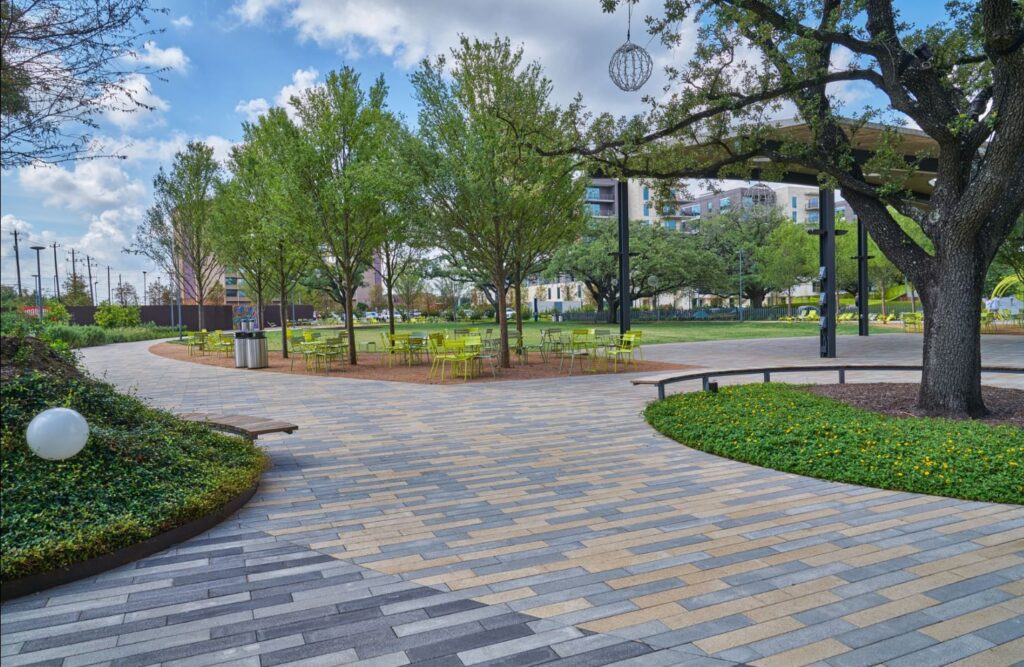 How can a Patio Paver be Eco-friendly?
There are different ways in how a paver can be eco-friendly. To better understand what is suited for you, first we need to understand those differences.
Recycled/Recyclable Material
Often the first thing that comes to mind when we talk about eco-friendly materials are the ones who produce less waste as possible. And that is correct. Waste reduction is one of the most important aspects in any eco-friendly approach.
The same applies to pavers. Materials that are recycled or can be recycled later on, like rubber and granite, are a top green paving choice.
Permeable Material
Another way in which a paver can be eco-friendly is by impacting absorption of water as little as possible. Pavers are actually an excellent choice in that aspect, as they can easily be laid on a pattern designed for that purpose.
By mimicking the way natural land absorbs water, permeable pavers can even be used to harvest and recycle rain water, given the proper installations take place.
Manufacturing Emissions
And the final aspect that permeates how a paver can be green is how much resources spend on its manufacturing process. Quarrying processes can be very impactful and produce a lot of fossil fuel, so that is an important aspect of it.
And here is a piece of information that might be surprising: natural stone is NOT an eco-friendly paver option.
As natural as stone is, the quarrying processes involved in acquiring it, later cutting it and then shipping it, sometimes all the way across the globe, produce a tremendous amount of emissions.
Eco-friendly Paver Options
With all the characteristics involving eco-friendly patio pavers laid on the table, it is time to present you with some options that better fit those characteristics.
To make things clearer, alongside every option we will present you with a chart involving all those three aspects, on scales from 1 to 5
Recyclability: ● ● ● ● ●
Permeability: ● ● ● ● ●
Emissions: ● ● ● ● ●
Rubber Paving
Recyclability: ● ● ● ● ●
Permeability: ●
Emissions: ● ●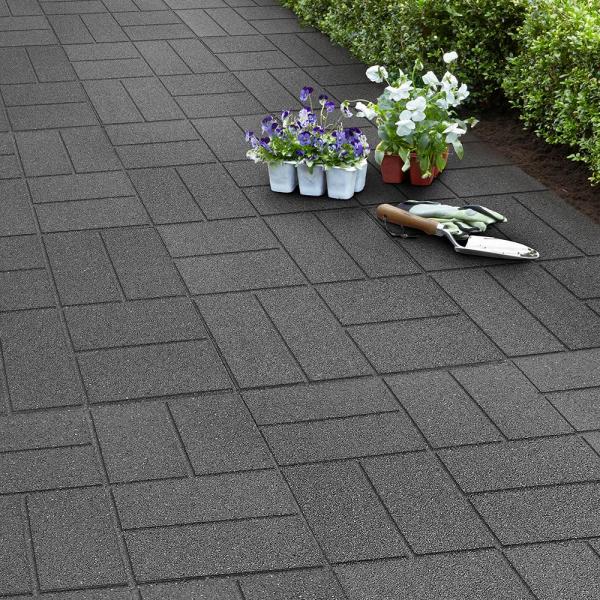 On the recycling aspect, rubber gets ahead of many options. Rubber pavers can be made by recycling old tires, or any other rubber waste material, for that matter. And when they get old, it is easy to recycle them into new pavers rather than simply throwing them out.
However, rubber pavers are not at all permeable, and cannot help on that front. In fact, quite the opposite. Rubber pavers get really damaged by water and can easily tear out in time, quickly losing their initial appearance.
Plastic Grids
Recyclability: ● ● ● ● ●
Permeability: ● ● ● ● ●
Emissions: ● ●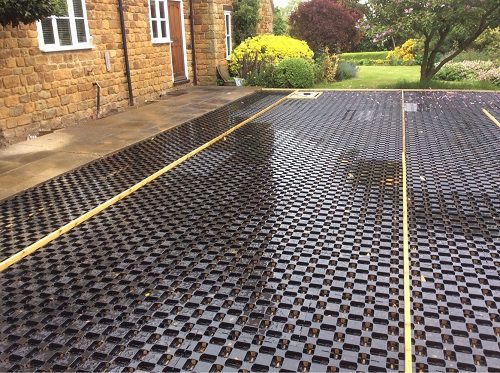 We know we are stretching here, but we want to give as many comparison options as possible. Plastic grids are not exactly pavers, but they are basically a version of rubber pavers that can be permeable.
They can easily be recycled just the same, produce very little emissions as well, but easily allow water to seep through. They can be used in conjunction with 3/8″ clear rock, that can easily fill the holes and still allow water absorbance.
Plastic grids are not the most aesthetic or long term sound choice, but can be an option for a small and inconspicuous space with less activity.
Granite
Recyclability: ● ● ● ●
Permeability: ● ● ●
Emissions: ● ● ●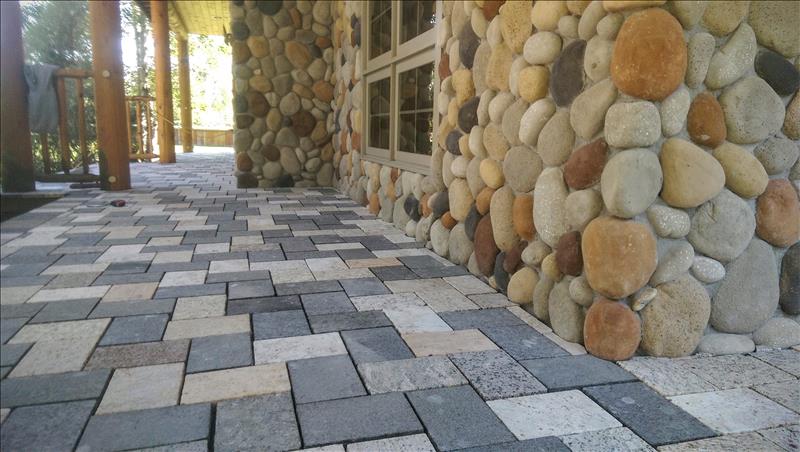 Granite is an old friend of the countertop industry. Contrary to popular belief, it is not a natural stone, so it checks our emissions box.
Granite is a man made stone created by combining resin, quartz, parts of other stones and pigments. It can be fairly made to simulate the look of many natural stones, and it certainly feels like one.
It is a resistant option, and can be laid to create bigger grout lines that can again be filled with 3/8″ clear rock to allow water to pass through it, so it contributes to permeability.
However, it can be difficult to find recycled granite specifically designed for pavers.
One of the leading companies in the business are Recycled Granite. They use granite and marble waste from the countertop industry to manufacture paver following standards of the industry for size, resistant and quality.
Permeable Concrete Pavers
Recyclability: ● ●
Permeability: ● ● ● ● ●
Emissions: ● ● ●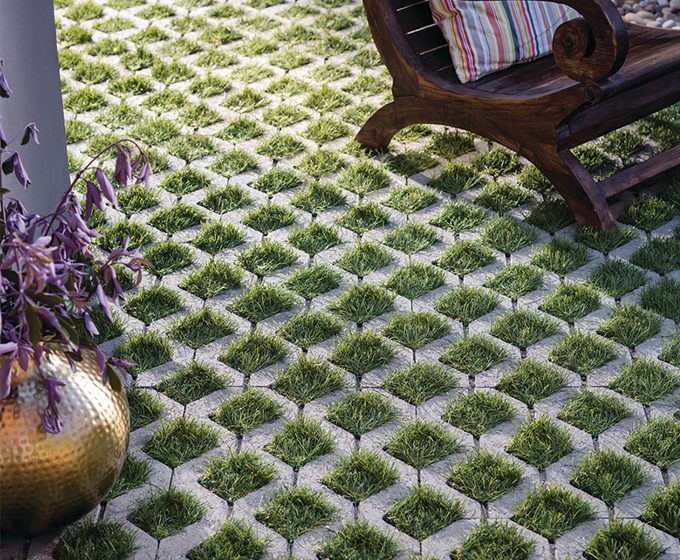 Of all the available options, permeable concrete pavers are the ones who are more consistent as an eco-friendly patio paver.
Very few emissions are produced when manufacturing concrete pavers, and they can fairly easy be recycled later on, although they are mean to last for decades.
They follow all the guidelines established by the hardscape industry. They are designed to last for decades and withstand heavy weights. Structurally speaking, they are no different from any other regular paver, so you'll risk less by going for it.
And it is impossible to talk about permeable pavers without talking about Belgard. Their products have more than 20,000 yearly hours put into it and are on the top tier of the industry.
Like we previously mentioned, permeable pavers can perfectly mimic the way natural land absorbs water and can be designed to recycle water.
Acquiring Eco-friendly Patio Pavers
One of the best things you can do when working with paver is to hire professionals to help you with it. Qualified hardscape professionals can help you choose the best pavers for your specific project and guide you through all the installation process.
That is even more important when considering going for eco-friendly pavers, as there are a lot of variables that need to be taken into account. The best way to start would be to find a contractor that you trust and schedule a conversation.
And if you happen to be around the Sarasota County, in FL, why not get in contact with us here at JS Brick?
For 20 years we've been offering our services around the region with an extreme satisfaction rate from our customers. Many of the projects we worked on were eco-friendly, so we have tons of experience on the subject.
Give us a call right now at +1 941 586 9140 or email us at [email protected]. We would be happy to hear from you and help you with any hardscape need you might have.